Why I did conference marketing
I decided I wanted to do some marketing at the American Counseling Association Conference. But it's easy to have a booth or put some swag in the bag, how could I stand out? My mode of operation tends to be different than most folks, so for me I wanted my marketing to reflect that. Also, I knew that I needed to be able to track effectiveness to see where the largest return was on my investment of time and money. There were a few parts to this conference marketing campaign.
The Conference Bag
I paid the American Counseling Association $700 to put something in the bag at the conference. I could put just about anything in there. Initially I wanted a postcard that said "Follow me on twitter, get free drinks." However, the conference planners felt that did not line up with their goals for the conference. So I had to figure out a way around that (you know me, I don't accept "no" for an answer, unless I decide I want to). I then thought about putting logo sunglasses in everyone's bag. There were around 3,000 participants and many of them may not like the style of sunglasses, nor would they even keep them. Also, since the glasses were around $1.80 each, that's $5,400 plus the $700 fee. Whoa.
I decided to put a postcard in the bag directing people to my website. There were details on the back about the website, podcast, and community of counselors. This is what the front looked like.
My having a clear landing page, I could see how many people visited the website and track the effectiveness of this part of the marketing. I had 5,000 postcards printed and shipped through VistaPrint to ACA, they cost $305.47. I designed them using Word, here's an article about how to use images and text in Word with very little design skills: How to create images.
The Conference Welcome Video
On the webpage, folks could watch the conference welcome video. This was a second layer of tracking and engagement. Through Practice of the Practice, I'm not just trying to build one-time readers, but instead I hope to build a community of people that want to engage to make private practice more awesome! I'm currently reading Set Godin's Tribes: We Need You to Lead Us
. There are so many things I hope to implement on the blog in the coming months. But, by asking for engagement, it helped me to have people connect on a deeper level. Here's the video if you didn't catch it:

Through the video I had two calls to action:
Sign up for the free newsletter
Follow me on Twitter to get free drinks
This again was helpful in tracking success, engagement and outcomes.
Blue Sunglasses for the Conference
The next step of the conference marketing campaign was to have 250 blue sunglasses to give out at the conference. $490 for the glasses, set-up, shipping, etc.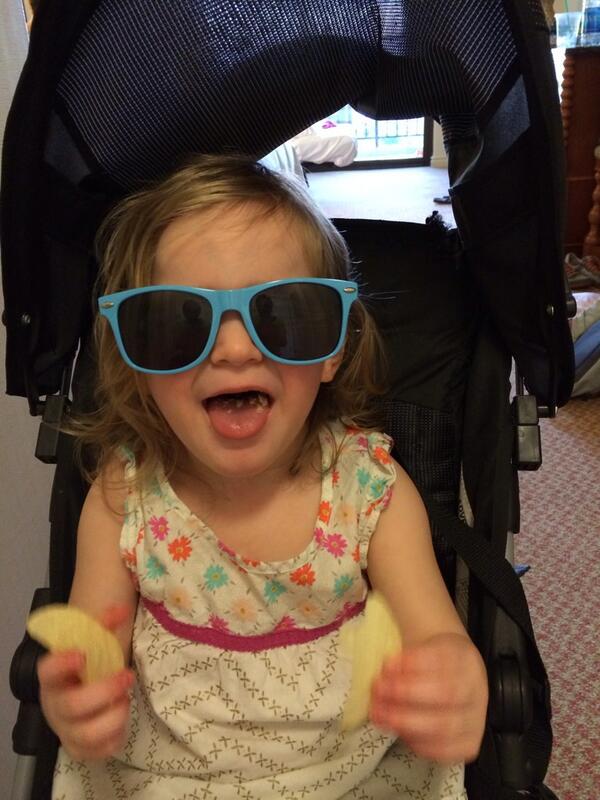 I also stapled cards that I bought through MOO to the sunglasses' packaging. They said "FREE DRINKS" and then had information on the back about how I'd be tweeting out where I was buying free drinks. These were $39.72.
Super Amazing Business Card
Lastly, I had business cards printed that were super thick, I mean like "scrap the ice off your windows in the dead of Michigan winter" think. I knew that I was impressed when other people had great business cards, so again I went through MOO for those. These were $119.99
Here's what they looked like:
Conference Marketing Costs
Insert in the ACA bags: $700
Postcards: $305.47
Sunglasses: $490
Mini promo cards: $39.72
Fancy business cards: $119.99
TOTAL CONFERENCE MARKETING COSTS: $1,655.18
I'm not including any of the conference costs in this, thus airfare, conference registration, food, etc. are not included since I also went to a ton of sessions and learned a bunch!
How to figure out ROI
I thought about return on my investment in a few ways. Here are some ways that I could make back the $1,655.18.
If any combination of these things happen, the marketing will have paid for itself. Thus far, I'm fairly disappointed, but let me share with you some high points and low points.
What happened
The website: www.PracticeofthePractice.com/ACA, I don't have the Google Analytics on this because of a kink when we switched over to the new WordPress theme. This is a major bummer, because it was the main way of figuring out the effectiveness of generating traffic. I've taken a breath and I'm moving on, but I definitely need to go through things with a fine-tooth comb more than I thought…again, moving on.
Video views: 87 views of the video occurred from when it launched until 5 days after the conference.
New twitter followers: I gained a handful of new followers, but it was at the same rate as before the marketing.
Free Drinks: I had 0 people come for free drinks.
Newsletter sign-ups: Before the conference I had around 10 people per week sign up for my free e-newsletter, I averaged less than this amount during the conference. I'm looking to see if the pop-up is still functioning with the new theme.
Sunglasses: People were jumping over one another for the sunglasses, I bet I could have given 500 more away. We'll see in the coming weeks if more people come to the website.
Business Cards: By talking in sessions, giving my "elevator pitch" and meeting folks, I gave away around 150 business cards
If I were to do it again
If I were to do this again, I think I'd probably do it the same, but check on the Google Analytics. It was good to know what works and what does not. With that said, I think that the most effective use of my marketing budget is to print business cards and pass out sunglasses. I probably could have spent half the amount of money. In the future, I foresee continuing to do more guerrilla marketing, rather the traditional methods. I'm going to bring business cards and glasses to future conferences. We'll see though, this may be a longer marketing process.
If in the coming months I get a few website builds or business consulting gigs, it may be worth the investment. I'll keep you posted!
Joseph R. Sanok, MA, LLP, LPC, NCC is amazed how much fun it is to help other people in business and counseling! He helps angry kids, frustrated parents, and distant couples at his private practice in Traverse City, MI at Mental Wellness Counseling. Also, he is the author of Mental Wellness Parenting | A remarkably simple approach to making parenting easier. To link to Joe's Google+ .